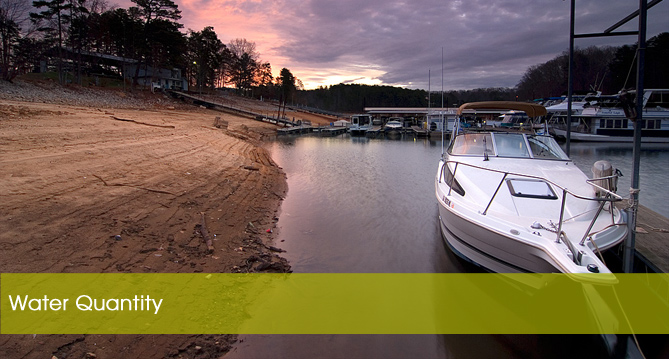 CRK works to ensure we have enough clean water for people and wildlife. Because the Chattahoochee River, including Lake Lanier, is the major source of drinking water for metro Atlanta—nearly 4 million people—ensuring we have enough clean water for ourselves and future generations is essential. As one of the smallest watersheds in the country supporting a major metropolitan area, the ability of our tiny watershed to support a rapidly growing region remains a challenge, especially during drought.
Providing an adequate supply of drinking water for the region is not all we ask of the Chattahoochee River. The quantity of water flowing in the river below Lake Lanier, i.e., instream flow, is essential for diluting wastewater discharges, generating hydropower, supporting recreational uses, and providing habitat for fish, turtles, mussels, and other aquatic organisms. Adequate instream flow also is necessary to protect downstream communities, particularly during times of drought.
In order to secure a sustainable water supply while supporting instream uses, CRK works in the following program areas:
We promote common sense, economical solutions to reduce water consumption, meaning more water left in our lakes and streams.
We support sustainable water planning and supply options as opposed to unnecessary, expensive, and highly-engineered projects, thereby saving taxpayers time and money while protecting our watershed.
We support efforts to secure an equitable water-sharing agreement with Alabama and Florida in order to resolve the decades-old conflict over water allocation in the Apalachicola-Chattahoochee-Flint River Basin.
We enforce laws, regulations, and policies that require maintenance of minimum instream flows to protect water quality and designated uses.