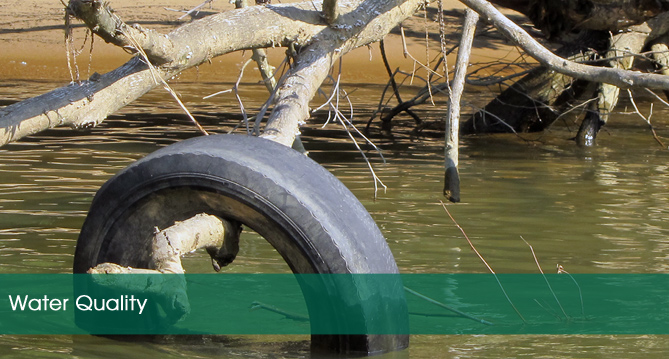 The Chattahoochee River is the most heavily used water resource in Georgia. From north Georgia to the Florida line, the river's watershed faces many threats to its health including stormwater and wastewater pollution from urban, industrial, and agricultural sources.
CRK works to protect and restore the chemical, physical and biological integrity of the Chattahoochee River, its tributaries and lakes with advocacy using policy, science, monitoring, education and the law. Our programs to address water quality problems range from staff and community members taking water quality samples to track sources of water pollution to holding workshops on how to prevent erosion and sediment from entering our precious drinking water source.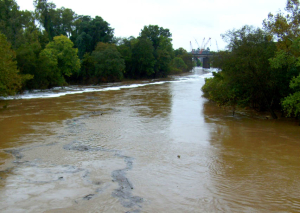 The river, especially around the Chattahoochee River National Recreation Area, is usually clean and safe for swimming, boating, fishing and other forms of water contact.
The exception is during and after heavy rains. Bacteria levels usually spike during heavy rain events as pollutants are washed into the river from impervious surfaces and the sewer infrastructure in our urban environment; and bacteria levels typically retreat after the rains subside.
During these times, we recommend that you minimize your exposure to the water
CRK uses quality data to determine if the water is safe for contact. In addition to weekly samples gathered through our Neighborhood Water Watch (NWW) Program, CRK collaborates with the National Park Service and the USGS to collect samples at two locations in the Chattahoochee River National Recreation Area. You can view the real-time data here: http://ga2.er.usgs.gov/bacteria/.
In regards to lake environments: Lakes are less susceptible than rivers and streams to the high bacteria concentrations found after heavy rains because they have less ideal conditions for bacterial survival. That being said, when the water is cloudy because sediment and contaminants are being swept into the waterway from heavy rains via tributaries to the lake, it is best to wait until the water returns to its dry weather conditions before returning to recreational water activities.
Use the links below to learn more about CRK's water quality programs and how to get involved.
BacteriALERT Monitoring Program
Lake Lanier Clean Water Campaign
Neighborhood Water Watch (NWW)
Protecting Streams and Communities from Industrial Pollution