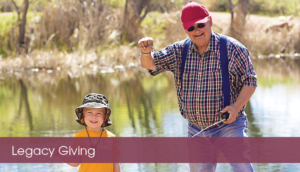 For twenty-three years, Chattahoochee Riverkeeper has been working tirelessly to protect what was once the nation's most polluted river. Our history of commitment to protecting one of our most valuable natural resources drives us to expand our education, volunteer and enforcement programs year after year. We envision a future where families play and swim in rivers completely free of trash, paddlers explore off limits stretches of river, and wildlife can thrive in and around lakes and tributaries. With your dedicated support, CRK will further expand its geographic reach and enhance the quality of life in our region. Will your legacy be to secure the future of our river, safeguarding it for future generations for decades to come?
Ways to Give:
Personal Stories: The Kirkpatricks
.
.
..
.
.
.
.
Are you ready to get started? Contact Becca Klein, Development Director, at bklein@chattahoochee.org or
(404) 352-9828 ext. 19.