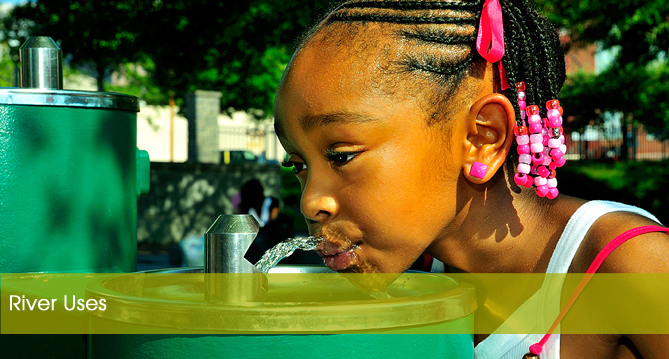 The Chattahoochee River flows directly through Atlanta, the largest metropolitan area in the Southeast. Therefore,  its uses are numerous and intensive. It is important to remember that the headwaters of the Chattahoochee River above Atlanta comprise the smallest watershed, or drainage area, for any metropolitan area in the country. That makes sustainable use very important.
Uses of the Chattahoochee River include:
Drinking Water
The Chattahoochee River system provides drinking water for more than five million Georgians, including 70 percent of the people in metro Atlanta (approximately 450 million gallons per day). Water withdrawals are by public or private suppliers and are delivered for domestic, industrial, and commercial use.
Wastewater Assimilation
The river carries away, and assimilates, our treated wastewater, however, it is challenged to handle increasing volumes because of its small size, as it flows through metro Atlanta. Approximately 100 public and private wastewater treatment plants discharge more than 250 million gallons per day into the Chattahoochee River Basin.
Agriculture
The Chattahoochee River Basin's forest cover consists chiefly of second-growth hardwoods and planted pine. Timber is the leading cash crop in the basin. Total farmland in the basin has decreased since the 1970s, however, poultry production has been increasing. Crops with the largest harvested acreage include peanuts, corn, soybeans and cotton.
Recreation
Because of proximity to the largest metropolitan area in the Southeast, the reservoirs, rivers, and streams of the Apalachicola River, Chattahoochee River, and the Flint River Basin, or AFC Basin, are heavily used for recreation. In the Chattahoochee Basin, this includes Lake Lanier — the most visited Army Corps of Engineers  water impoundment, or man-made lake, in the country; a cold-water trout fishery below Buford Dam within a federal park; and West Point Lake, downstream of Atlanta.
Power
Power generation is the single-largest water use. Sixteen of the basin's 22 power-generating plants are located along the mainstem of the Chattahoochee River. The first power-generating dam, the Eagle-Phenix Dam near Columbus, was originally constructed in 1834 and reconstructed in 1865 to provide hydropower to the mills.
Navigation
Navigation has been an historical use of the waterways of the ACF Basin from Apalachicola Bay to the Fall Line (Columbus). A series of three navigation locks and dams are operated by the U.S. Army Corps of Engineers. In 1946, authorization was provided for the maintenance of a 9-foot deep and 100-foot channel from the mouth of the Apalachicola River to Columbus, Ga.
Fish/Wildlife Habitat