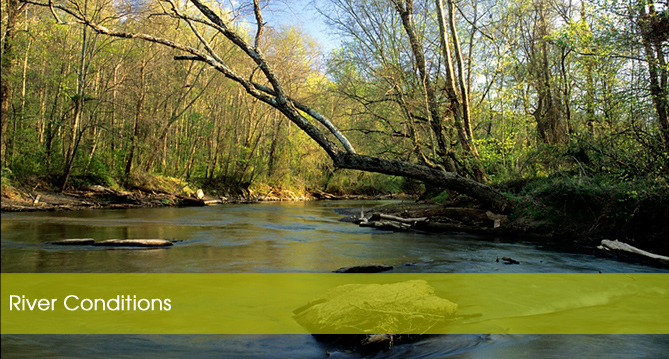 Water Levels: The water level in the main stem of the Chattahoochee River is affected by 14 dams, primarily controlled by the Army Corps of Engineers. Check their website to find current lake levels for Lake Lanier, West Point Lake and other dammed waters operated by the agency along the Chattahoochee River.
To learn more about stream flow in your watershed, visit the U.S. Geological Survey online for the latest stream gauge data. The Chattahoochee River gauges may be found here.
For local metro Atlanta dam releases, call:
Buford Dam (below Lake Lanier), 855-326-3569 or 770-945-1466
Morgan Falls (below Bull Sluice Lake), 404-329-1455
Water Quality: For water quality information go to Surf Your Watershed and for step (1) select "Zip Code," for step (2) enter your 5-digit code, and then click "Submit."
For Chattahoochee-specific information, see Upper, Middle (to Lake Harding), Middle (to Walter F. George Lake), and Lower.
Recreating further downstream? Visit the National Park Service online for approximate times that it takes for river levels to begin to rise at various locations below Buford Dam.
BacteriAlert:  Learn about the BacteriAlert program here. For bacteria readings in the Chattahoochee River National Recreation Area (CRNRA) click here.
Weather is always a critical factor when recreating on the river. The National Weather Service provides excellent, eal-time radar.
Drought impacts stream flow, lake levels and dam management. For the latest drought information for the region, visit the United States Drought Monitor.