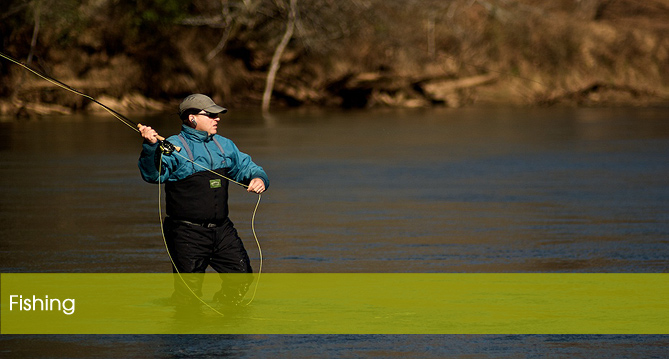 The most common widely-available species for recreational fishermen are:
Brown and rainbow trout (Buford Dam to Morgan Falls Lake)
Brown and rainbow trout, green sunfish, crappie, carp, yellow perch (Morgan Falls Lake to Morgan Falls Dam)
Green sunfish, yellow perch, brown trout, rainbow trout, crappie, carp, channel catfish, largemouth bass, white bass (Morgan Falls Dam to Peachtree Creek)
Green sunfish, carp, long nose gar, channel catfish, white bass, largemouth bass, crappie, striped bass (Peachtree Creek to West Point Lake)
Note: Trout are stocked weekly at certain locations in the Chattahoochee River National Recreation Area and all other fish run seasonally.
Licensing: To purchase a Georgia fishing license, go to a local sporting goods or retail outlet (e.g., Sports Authority, Walmart or Kmart). For Georgia DNR call 770-918-6418.
Regulations: Available at most sporting goods and retail outlets (i.e. Walmart and Kmart).
Fish Consumption Guidelines for Eating Fish from Georgia Waters
Contact: Department of Natural Resources
Environmental Protection Division
205 Butler Street, S.E. Suite 1152
Atlanta, GA 30334
404-656-4713
Please also check out this angler's pocket guide on what to do if you see erosion and seditment problems when you're fishing.
Fishing Guides
River Through Atlanta Guide Service (Chris Scalley) 770-650-8630
Capt. Harlan Trammell 305-393-3498
Sportfishatlanta.com 770-312-3855
Let's Go Fishing USA Inc. 770-969-1222
Unicoi Outfitters (Helen) 706-878-3083
Tommy Mike Guide Service (LaGrange) 706-882-8189 or 800-829-MIKE
Ron Savage (LaGrange) 706-884-6232