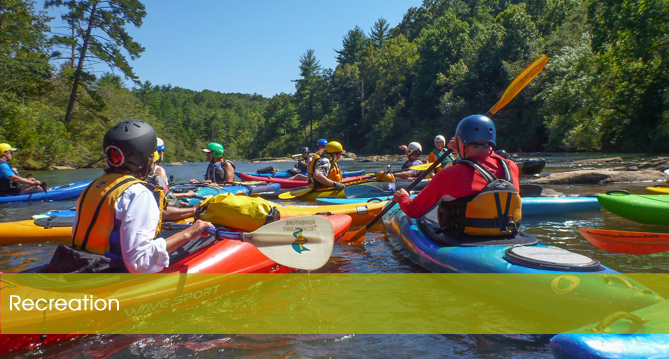 There are varied recreational opportunities in five distinct areas within the Chattahoochee River watershed.
1
The Chattahoochee River begins 3,500 feet high in the Blue Ridge Mountains at Chattahoochee Gap in the national forest and flows 42 miles to Belton Bridge at the headwaters of Lake Lanier. The 1,000-square mile 
Headwaters
 region combines trout fishing, whitewater boating with many wilderness parks and hiking trails.
2
Lake Lanier
, named after the poet Sidney Lanier, encompasses 38,000 surface acres of water with 540 miles of shoreline. It has been estimated that there are 23,000 boats and 10,000 houses on Lanier. There are many recreational areas with boat ramps and camping facilities. Marinas dot the shoreline and sailing, kayaking and boating clubs provide training and social activities. The 
Elachee Nature Science Center
 and the 
Lanier Museum of Natural History
 offer educational opportunities.
3
The 48-mile river section from Buford Dam to Peachtree Creek
contains both private land and a system of parks administered by the 
Chattahoochee River National Recreation Area (CRNRA)
. The CRNRA consists of 48 miles of river and 16 separate land units, or parks, along both sides of its banks. Trout is stocked from Buford Dam to the City of Roswell and the River alternates from gently flowing with riffles to Class 2 water below the first I-285 Bridge crossing.
4
The 65-mile River section from Peachtree Creek to West Point Lake starts within the industrial area of Atlanta and reveals water quality problems associated with a large metropolitan area. In South Fulton County, the river opens to a beautiful 40-mile stretch to Franklin, Georgia. Included in this river section are 
McIntosh Reserve
 (historic site and recreation area), Sweetwater Creek State Conservation Park, Cochran Mill Nature Center, and New Manchester. Several boat ramps allow access for canoeists and fishermen.
5
West Point Lake
 contrasts with Lake Lanier in that it is less cluttered from development with a more laid back atmosphere. Campgrounds, day use facilities and two marinas provide recreational services. Several scenic rocky streams feed the lake in addition to the Chattahoochee.
Sport fishing is good in the Chattahoochee River watershed, but care should be taken when it comes to eating the fish that are caught. See Georgia fish consumption guidelines and also check out this angler's fishing guide on what to do when you see erosion and sedimentation problems on the river while fishing.
Publications
The Riverkeeper's Guide to the Chattahoochee by Joe Cook. This guidebook may be purchased at bookstores or online.
Field Trip: Exploring the Chattahoochee River by Kara J. Wiergacz. This excellent treatise on recreating on the Chattahoochee covers canoeing/rafting from Helen to Lake Lanier, the Chattahoochee Nature Center, the CRNRA parks and activities, and fishing from the headwaters to Peachtree Creek. For more information, visit SherpaGuides.com.