Quality Hooch
Quality Hooch raises $20,000 for water monitoring efforts in 2017!
The Quality Hooch Campaign moves in to year three of ensuring a forever clean and sustainable Chattahoochee River.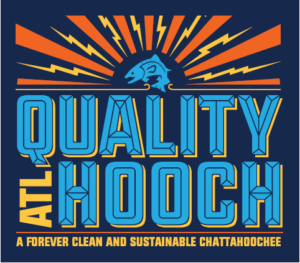 This year's campaign will support CRK's CRNRA River Protection Program, which focuses on our work in the Chattahoochee River National Recreation Area (CRNRA).  Every year, approximately 3 million people visit the 48-mile CRNRA between Lake Sidney Lanier's Buford Dam and Atlanta.  Many of the CRNRA visitors participate in water-based recreational activities, including fishing, wading, and paddling. Often times the water quality is safe, however, the CRNRA is subject to significant pollution sources including E. coli contamination from treated sewer discharges, leaking sewer lines, septic tanks, polluted stormwater and other sources.  Contamination from fecal bacteria has the potential to make people sick and is a major concern to the outdoor recreation community.

This year's campaign will partner with our friends from SweetWater Brewing Company and BOTE Board to raise $70,000 to support the following four programs:
BacteriALERT – The BacteriALERT program is very popular with Atlanta's growing outdoor recreation community because it is the only system that provides real-time information about health risks from contact with the water in the park. The program is a public-private partnership between the National Park Service (NPS), the United States Geological Survey (USGS), and Chattahoochee Riverkeeper (CRK). Through a system of remote water quality sensors and laboratory analyzed samples, the BacteriALERT program issues public advisories to river users during times when E. coli levels exceed the U.S. Environmental Protection Agency recommended values. The continuation of this important program is vital to protecting the public health and safety of the CRNRA visitors, and our regions fishermen.
Neighborhood Water Watch Program (NWW) – CRK monitors E. coli as part of our NWW program at 16 sites and streams in the CRNRA.  Volunteers collect samples each week and deliver them to our laboratory in the Atlanta office where CRK staff process and analyze the samples for the concentration of E. coli bacteria.  If high E. coli levels are detected, CRK staff locate the contamination source – usually a leaking sewer line or overflowing manhole.  We then work to remedy the issue.  This program stopped 15 major sewer spills in 2017.
Community River Cleanup Program – Our waterways provide us with fresh drinking water, great recreational opportunities like fishing and paddling, and they serve as a pleasant respite from our busy day-to-day lives.  CRK's cleanup program gives community members and businesses the opportunity to help protect Atlanta's most precious resource.  Over the past 24 years tens of thousands of volunteers have helped CRK remove more than 850 tons of trash from our waterways at multiple events—including our annual basin-wide trash cleanup called Sweep the Hooch.
Outings Program – To increase stewardship and access, CRK leads an outings program that provides opportunities to connect to the Chattahoochee River.  Our outings are designed to enjoy and give back to the river through recreation.  We plan a camp and paddle trip in October, and host a River Discovery Series that on multiple stretches of the river in the CRNRA.
Save the Date – Down the Hatch Fly Fishing Film Festival
Chattahoochee Riverkeeper, along with our friends from The Orvis Company and Sweetwater Brewing Company, will host a fun night of good food, heady brews, fresh films, and sweet raffles on October 4, 2018 at The Metropolitan Club in Alpharetta. This will the 5th Annual Orvis Down the Hatch Film Festival and it will be a night you don't want to miss! So mark your calendars and head over to the event page for more details!