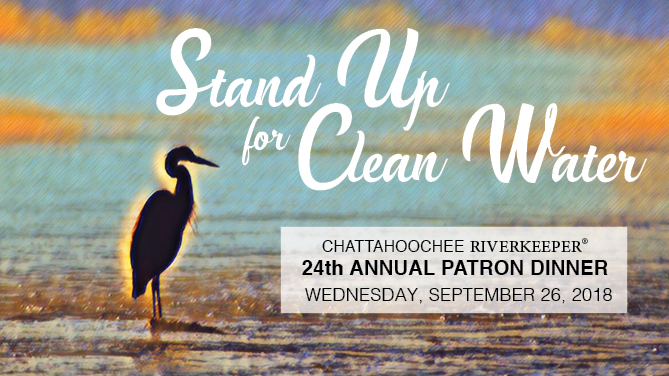 Wednesday, September 26, 2018 @ Georgia Aquarium

The annual Patron Dinner is CRK's most important fundraiser of the year, raising nearly 20% of our annual operating budget. Your support is helping to ensure enough clean water in the Chattahoochee River system for now and future generations. Please consider becoming a sponsor of this year's event or purchasing a ticket to join us for the festivities!
Click here to view/download our event sponsor information. With continued threats to our river, CRK needs your support now more than ever.  If you are interested in sponsoring this event, please contact Becca Klein at bklein@chattahoochee.org.
The evening will begin with a reception at 6PM, followed by a seated dinner and program at 7PM. This year we will honor Van Michael Salon with our prestigious River Guardian Award.  In 2012, Van Michael Salon's commitment to clean and plentiful water in the Chattahoochee River inspired AVEDA Corporation to select CRK as its Earth Month Partner. Since then, Van Michael Salon and AVEDA have led an annual campaign to share our message of clean water protection with thousands of people.
Agnes Scott College will receive our River Sustainability Award for demonstrating exceptional commitment to protecting the Chattahoochee River. The college has implemented a water plan to reduce its footprint on the river, focusing on efficiency and conservation. We are also pleased to honor Bonnie Jackson, a member of the CRK family, with our River Steward Award. For three decades, Bonnie devoted herself to protecting Georgia's natural resources by serving the organizations that are dedicated to defending and preserving its special places.
We look forward to having you join us on September 26 as we celebrate those individuals and institutions that have gone above and beyond for our waterways!
23rd Annual Patron Dinner Photo Album:

In 2017, 500 guests gathered at the Georgia Aquarium to celebrated CRK's accomplishments under the leadership of Executive Director Juliet Cohen and Riverkeeper Jason Ulseth.  We also honored John Pruitt with the River Guardian Award (view full honorary video) and Stephanie Stuckey with the River Steward Award.  Special guest, Dr. Marshall Shepherd, Georgia Athletic Association Distinguished Professor and Director, UGA Atmospheric Sciences Program, will delivered a timely address on climate and the Chattahoochee watershed.  Thanks to our sponsors and a fantastic selection of auction items, we raised $270,000 to support our river protection programs.
Past Sponsors have included: Cox Enterprises, Jim and Sarah Kennedy, Colonial Pipeline, PNC Bank, UPS, The Coca-Cola Company, Mary Jane and Dave Kirkpatrick, Turner Foundation, Arthur Blank Family Foundation, Ellis Communications, The Hertz Family, Laura and Rutherford Seydel, Turner Enterprises and more.