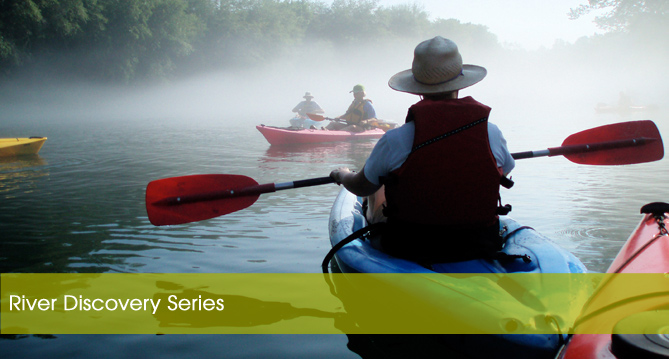 Back for the 11th year, the River Discovery Series is a series of paddle trips hosted by CRK in partnership with National Park Service. Designed for beginners and advanced paddlers alike, the series consists of three trips running the length of the river within the Chattahoochee River National Recreation Area (CRNRA), from Bowman's Island to Paces Mill. See map of the CRNRA.
For each segment, a National Park Service Ranger accompanies us and acquaints paddlers with the key features of that part of the river.
**NEW DATES** Thanks to all the rains this summer, we have two trips that have been rescheduled to October!  We have availability in both trips for you to join us – see details below and register for one or both trips.

Oct 6 – Morgan Falls Dam to Paces Mill (8 Miles)
Paddle the final section of the CRNRA, which is rich in both natural and human history. See the site where Federal forces outflanked the Confederate Army, Native American sites, and the magnificent Palisades. Pass through Cochran Shoals, Devil's Race Course Shoals, and Thornton Shoals, all easy and fun Class 1.5 rapids. Estimated trip times (which includes shuttling): 9am to 3pm. Bring your lunch for a mid-stop break.
Oct 7 – Buford Dam to McGinnis Ferry (9 Miles)
Starting at the base of Buford Dam in the clear, cold water released from the bottom of Lake Lanier and paddling to the new ramp at McGinnis Ferry. This journey follows a section of beautiful oak hickory forest and prime trout water. Estimated trip times (which includes shuttling): 9am to 3pm. Bring your lunch for a mid-stop break.
REGISTRATION INFORMATION
Fee: $40 per person (tandem partners must register separately)
Participants receive a one-year individual CRK membership.
Boating equipment is not provided. Click here for a list of local outfitters. These trips are intended for kayaks and canoes only – inflatable boats are not permitted.

PFD's are required and must be securely worn on all CRK paddle trips. No exceptions.

Shuttling is a group effort and typically we will meet around 9am at the put-in to unload all boats and shuttle to the take-out before we get on the river.
Additional information is provided in your confirmation email and specific trip details one week prior to the trip date.
All paddle trips have a maximum capacity – we encourage you to register early to ensure participation.
Each participant is required to sign a CRK Liability Waiver. This is authorized as a electronic signature during the registration process. Click here to preview the CRK Liability Waiver.
Youth Age Requirements: If paddling solo, paddler must be at least 15 years old. If paddling tandem, youth must be at least 8 years of age and accompanied by an adult at least 21 years.
Cancellation Policy: You may cancel your reservation for a refund minus a $10 processing fee 7 days before a trip. After 7 days, we can no longer offer a refund for cancellations.