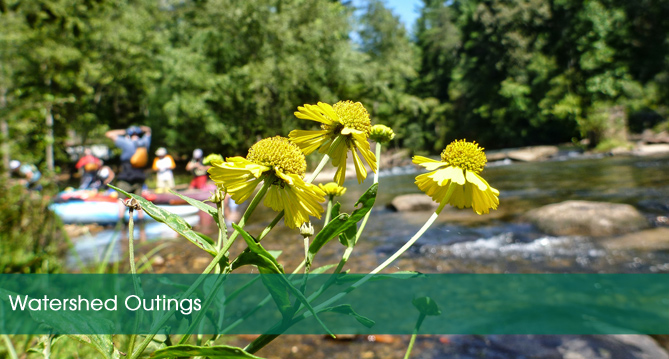 CRK's Outings Program is not just a diverse way to enjoy the great outdoors – it's a chance to connect our community to the Chattahoochee River and provide different perspectives on its value in the everyday lives of Georgians. And at times, it's a chance to give something back to the river by pulling something out – trash. One part paddle trail, one part hiking trail, one part camping venue, and one part threatened water source … the Chattahoochee means many things to many people.
We are excited to offer the following 2018 outings!  Check back regularly as we continuously update the list: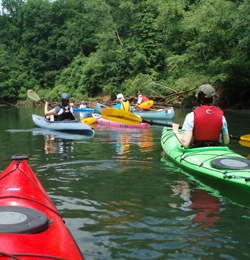 Enjoy any or all of these ranger-led paddle trips within the Chattahoochee River National Recreation Area. These trips are in partnership with the National Park Service.
July 28 – Jones Bridge to Island Ford (9 miles) 

SOLD OUT

* NEW DATE* 

October 6 – Morgan Falls Dam to Paces Mill (8 miles)

*NEW DATE* 

October 7 – Buford Dam to McGinnis Ferry (9 miles)
CRK's camp and paddle trips have become a favorite within our paddling community. Be sure to mark your calendar and enjoy two nights of camping and two days of paddling in some of the most gorgeous sections of the Chattahoochee River.
March 24 – Resilience on the River
March 24 – Moores Bridge to McIntosh Reserve Paddle
September 21-23 – Headwaters Water Trail Camp and Paddle
October 6 – Langdale Loop Paddle
October 12-14 – Middle Chattahoochee Camp and Paddle
November 3-4 – 2-Day Buzzard Paddle Cleanup
Join us for hikes, lake trips and whitewater rafting adventures!
March 10 – Middle Chatt River Rendezvous
March 31 – West Point Lake Wildlife Cruise
April 22 – Fish with a Pro
May 24 – Sunset Jazz Cruise
June 28 – Hometown Concert Cruise
July 12 – Highbeams on the Hooch Cruise
July 21 – Lake Lanier Sunset Cruise
August 7 – Bat Search by Boat Cruise
September 28 – West Point Lake History Cruise
September 29 – Headwaters of the Chattahoochee Hike
October 28 – Ghosts on the Water: A Celebration of Southern Spirit Stories and Songs
This is your opportunity to help protect one of our most precious resources by volunteering on one or more of these cleanups and helping us get the trash out!
April 7 – Sweep the Hooch
June 9 – Happy Hour PADDLE Cleanup
July 29 – Clean the Race Course
September 15 – Happy Hour Cleanup
December 8 – Happy Hour Cleanup
This program is supported by…