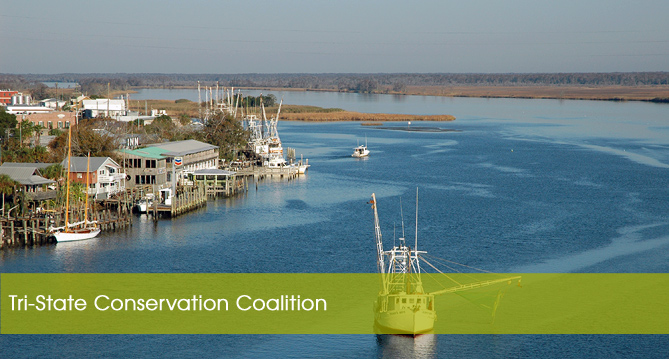 Thanks to generous support from the C.S. Mott Foundation and the Turner Foundation, CRK formed the Tri-State Conservation Coalition (TSCC) in 1999 to foster better cooperation and coordination among non-governmental conservation and recreation organizations in the ACF and ACT Basins. TSCC member organizations are committed to safeguarding the water quality, ecological, and recreational functions of the River Basins.
Mission Statement
The Tri-State Conservation Coalition is working to protect and restore water quality, biodiversity, and recreation in the Apalachicola-Chattahoochee-Flint (ACF) and Alabama-Coosa-Tallapoosa (ACT) River Basins.
Five Core Principles
The TSCC believes we can achieve a sustainable future for people, fish, and wildlife by meeting the following five core principles:
(1) 

Maintain 

ecologically healthy 

river

 flows

 essential for sustaining critical ecosystem services, including fisheries, habitat, biodiversity, 

groundwater

 recharge, filtration, and flood and drought mitigation.

(2) 

Maximize 

water and energy conservation and efficiency

 first as the proven, cost-effective, and reliable means of meeting future water demand.

(3) 

Minimize adverse impacts of interbasin transfers

 

which often dewater and degrade one river basin in order to increase water supply and economic development in another basin.

(4) 

Embrace 

adaptive management

 based on sound science and ade

quate monitoring and reporting.

(5) 

Transparent and accessible decision-making

 to facilitate and diversify public participation.
For more information about the tri-state water conflict and CRK's efforts to resolve the dispute, contact Water Policy Director Chris Manganiello or call (404) 352-9828 ext. 15.