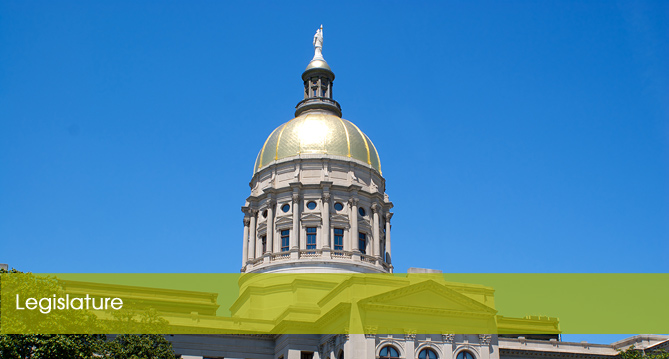 Join CRK to Protect Clean Water in 2018
CRK is working alongside the Georgia Water Coalition to protect and care for Georgia's water resources under the Gold Dome. The 40-day legislative session began on January 8, 2018 and will continue through early April.  CRK will be working to pass priority legislation on stream buffer protections and the handling of power plants' coal waste, as well as addressing other important water protections and responding to any threats to clean waters.
This year, we are continuing our intensive efforts to re-establish buffer protections on all state waters, after this vital water quality protection was limited by a 2015 Georgia Supreme Court decision.  The Coalition is working with legislators on a simple, logical fix to ensure buffer protections on all state waters. We are also working to address the huge volumes of coal ash waste stored at Georgia Power plants across the state.  The EPD has written new rules regulating the long-term storage of this waste stream at the power plants or local landfills.  CRK and our partners are dedicated to ensuring that this waste is disposed of in a way that keeps it out of nearby rivers and streams and from contaminating groundwater at properties around the sites.
Your help is needed.
Please contact your representatives and senator and let them know that clean and plentiful water is important to you.
To find out whom your legislators are follow this link: http://openstates.org/ga/legislators.
To receive environmental action alerts during the year, sign up for the Georgia Environmental Action Network at http://www.protectgeorgia.org/#/.
CRK'S Legislative Work
CRK actively works to educate elected officials and policy makers at all levels about matters related to the protection and restoration of the Chattahoochee River Basin. Legislation can protect or enhance our natural resources or can accelerate their deterioration. CRK conducts lobbying activities, defined as promoting or opposing the passage of legislation, which includes statutory law, local legislation (limited to particular jurisdictions), and appropriations acts. Since 1994, CRK has helped promote important river protection legislation at the state level and worked to defeat anti-environmental bills.
Contrary to popular belief, nonprofit groups can lobby. The IRS has set limits on how much lobbying a 501(c)(3) organization can undertake and on the amount of money that can be spent on direct and grassroots lobbying. Therefore, CRK is very careful not to exceed these limits in our lobbying activities, most of which take place at the state Capitol.
If you have a specific question about legislation or CRK's position on a bill, please email us here.