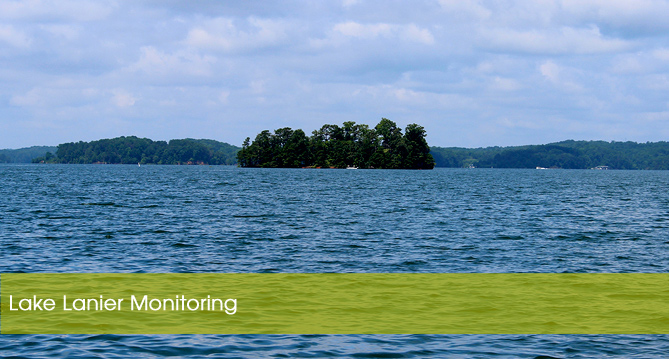 As part of our Lake Lanier Clean Water Campaign, CRK monitors Lake Lanier at 10 different locations. We specifically test for the levels of chlorophyll, which is an important indicator of a lake's health. High levels of chlorophyll can indicate algae blooms and excessive amounts of nutrients flowing into the lake, which can deplete oxygen in the water and lead to serious water quality problems.
Lakes tend to collect and hold nutrients, such as nitrogen and phosphorus as they flow into the lake. Sources include: agricultural and industrial areas, municipal wastewater treatment facilities, septic tanks, and lawn fertilizers to name a few. As these nutrients collect in the lake, a main concern is that excessive amounts of algae may begin to grow in the lake and have devastating impacts.
CRK's sampling and quality assurance plans have been approved by the Georgia Environmental Protection Division (EPD) for these projects. Therefore, all of our data collected can also be used by EPD and others. We collect samples monthly during the summer.
Jason Ulseth, CRK's Riverkeeper, manages these important monitoring projects and often uses the assistance of CRK volunteers to collect and process the samples. Once the samples are collected and processed, they are immediately sent to the University of Georgia laboratory for analysis.