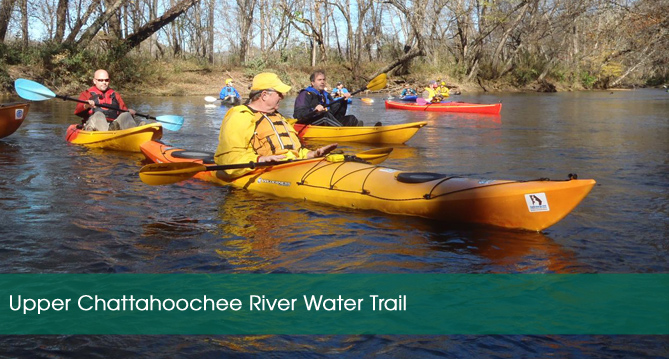 The Upper Chattahoochee River Water Trail is a canoe and kayak trail running 36.2 miles from the river's confluence with Sautee Creek below the town of Helen to Clarks Bridge on Lake Lanier. A feasibility study of the trail was conducted by CRK working with the National Park Service Trail Division and presented to the Georgia Department of Natural Resources (DNR) in 2009.
The trail has six river segments, ranging from four to ten miles in length. The entrance and exit points for the segments include a mixture of public rights-of-way, Army Corps of Engineers parks, state DNR property, and private property where special arrangements have been made allowing Wildwood Outfitters access to put paddlers on the water. This "blueway" has been used by recreational paddlers since the 1970s and is expected to gain a more official designation from state and local agencies in the near future; limited camping is allowed on some DNR property with reservations available through Wildwood Outfitters.
The water trail begins with a beautiful series of shoals, giving way to long stretches of natural vistas and some Class II-III rapids. You will see rock faces, huge boulders, islands and abundant wildlife. As it approaches Lake Lanier, the river trail flattens out, while still providing great paddling with untouched natural beauty and wildlife. Paddlers are always encouraged to treat private property with respect, not trespass, and leave no trace.
Check out our Water Trail Study, which features launch location information, paddling guidance and information for each paddle segment. Wildwood Outfitters has the official paddling concession for many of the access locations, and paddlers are encouraged to use the shuttle service in areas where access is on private property or is on an active highway. Paddlers should know their skill level and question local paddlers and seek water level data and advice before attempting the more challenging sections. Proper safety gear including helmets is recommended or required in many sections. Please see River Safety and Paddling Etiquette for more information on a great paddling experience.
CRK offers paddle trips and cleanups on the Upper Chattahoochee River Water Trail during the season. Be sure to check our paddle trips page, and join us on one of our adventures!
Download a PDF of the trail brochure here.