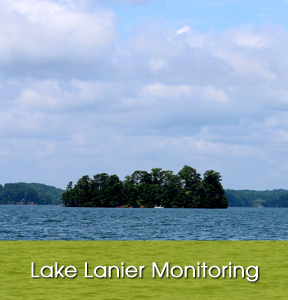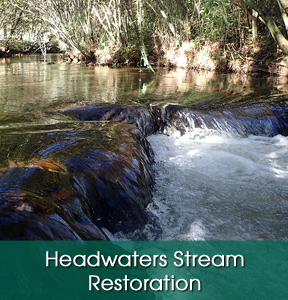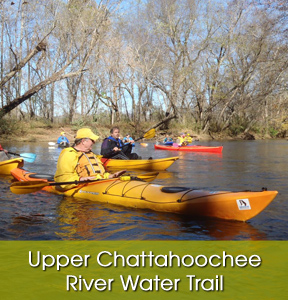 The Region
The Chattahoochee River begins just a few hundred yards from the Appalachian Trail in north Georgia's Chattahoochee National Forest, where the river and its tributaries support reproducing populations of brook (a native), brown and rainbow trout. These forest lands provide excellent recreation opportunities such as fishing and hiking.
The region that is considered the headwaters of the Chattahoochee Basin encompasses a 1,036-square mile land area in the Blue Ridge physiographic region that is upstream of Buford Damand drains into Lake Lanier. Important sub-watersheds in the Headwaters region include the Soque River (Habersham County) and the Chestatee River (primarily Lumpkin County).
In addition to Lake Lanier, parts of six counties are included in the Headwaters region — White, Habersham, Lumpkin, Dawson, Forsyth and Hall. Lanier is one of fourteen main stem reservoirs on the Chattahoochee River — the first major impoundment on the Apalachicola-Chattahoochee-Flint (ACF) river system, which is managed by the U.S. Army Corps of Engineers.
The primary water quality problems in the Headwaters region are due to erosion and sedimentation from uncontrolled development and agricultural practices, elevated fecal coliform levels, increased temperatures and excessive nutrient problems in Lake Lanier.
CRK's Headwaters Office
In 1996, CRK established a satellite office in Gainesville, an hour north of Atlanta, to work specifically on issues affecting the Headwaters region — from erosion control, stream buffer protection, land use/zoning decisions and illegal discharges to a floating classroom, lake monitoring, outings, cleanups and the creation of a new water trail (Sautee Creek to Lake Lanier).
Past projects handled by our Headwaters Office have included: our highly successful Stream Restoration Project on the left fork of the Soque River, Source Water Protection Project in Habersham County, Headwaters Biodiversity: Assessment of Threatened Fish Species, the West Fork Little River Restoration Project in Hall County; and a tree and stream protection project in Lumpkin County.
Headwaters Office: 
Dale Caldwell, Headwaters Director
Hannah Warner, Headwaters Outreach Coordinator
104 Washington Street SE Gainesville, GA 30501
Phone: 678-696-8866
dcaldwell@chattahoochee.org