Chattahoochee Riverkeeper On Patrol
Updates from your local watershed
American Sealcoat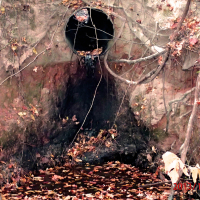 In 2014, CRK's tracking team discovered oily black sludge seeping out of a storm drain and into a small tributary next to the river.
"That was one of the worst things I've seen in eight years of doing this type of work," remembers Riverkeeper Jason Ulseth. Our team traced the chemicals back to American Sealcoat (AS), an asphalt sealant manufacturer.
Operating without an industrial storm water permit, in clear violation of the Clean Water Act, AS was repeatedly and intentionally dumping toxic waste down a nearby storm drain less than 1000 feet from the Chattahoochee River.
"
They were definitely aware
that there was some sort of material going into that concrete drain that wasn't supposed to, because they were always talking about it," recalls a former AS employee under oath. "Oh don't let anybody see that or don't let [the local competitor] see you guys dumping it into the hole because we'll get a $30,000 fine for a spill."
Chattahoochee Riverkeeper tried to work with AS to get the site cleaned up but they refused, leaving us no choice but to pursue a legal path. On August 13, Judge Evans ordered American Sealcoat to pay a $10 Million penalty to the U.S. treasury.
In October 2015, CRK reached a settlement agreement with property owner M&K Warehouses, LLC. M&K has worked to reverse the environmental harm caused by American Sealcoat, spending more than $500,000 on remediation, restoration and stabilization work and will also contribute $90,000 to local environmental projects to keep the Chattahoochee River clean and safe.
CRK is pleased with this resolution and that M&K agreed to a thorough clean-up of the affected property- we are assured that future stormwater runoff from the site will not carry any further contaminants to our beloved Chattahoochee River. This settlement agreement shows that cooperation is much more effective and successful than conflict and sends a clear message to other industrial operators and property owners that compliance with water quality laws is not optional.
The Blueway Trail Takes Shape
The Chattahoochee Valley Blueway will soon be a reality. Encompassing a 52-mile stretch of river between West Point Lake and Columbus, this exciting project will bring much needed attention and economic benefit to a part of the Chattahoochee River once dominated by the textile industry.
CRK Partners With American Rivers On Stormwater Rules
The Atlanta Regional Commission is updating its Manual for Stormwater Management in Georgia (Blue Book) and CRK is working with American Rivers to assist ARC in the process. The Blue Book provides guidance to local governments on establishing stormwater regulations for developers.
Atlanta Enacts Energy/Water Audit Ordinance
On April 20, Atlanta's City Council approved a commercial energy and water audit ordinance, requiring select commercial building owners to track the building's energy and water use.
New Trail Improves Headwaters River Access
The Friends of Gainesville Parks, Greenways Board, and CRK are working to implement a canoe/kayak paddle trail that will connect four Gainesville city parks on Lake Lanier.