Wastewater: Chronic Sewage Spills by City of Atlanta
From the late 1970s through the 1990s, officials in the city of Atlanta failed to invest in regular maintenance of the city's sewer system, which led to thousands of overflows and spills of untreated sewage each year during wet and dry weather. This pollution resulted in elevated bacteria levels in neighborhood streams and ultimately the Chattahoochee and South rivers, threatening public health and lowering downstream property values.
In 1995, CRK filed a lawsuit in federal court against the city of Atlanta for failing to control the discharge of raw sewage and other pollutants into these waterways from combined sewer overflows (CSOs). CRK won the case in 1997 and settled it in 1998. Subsequently, the U.S. EPA and state Environmental Protection Division pursued an enforcement action, which was made a part of our original lawsuit and was based on their five-month investigation of the city's entire sewage system. The result was an enforceable plan to overhaul the city's entire sewage system pursuant to a consent decree overseen by Federal Judge Thomas Thrash with all work to be completed by 2014 at an anticipated cost of more than $2.5 billion.
Former Mayor Shirley Franklin oversaw the implementation of the Atlanta Clean Water Program, which also includes massive upgrades to the city's drinking water system, since she took office in 2002. Two supplemental environmental projects were negotiated as part of the settlement—a massive cleanup of all trash in 37 miles of streams, completed in 1999, and a Greenway Acquisition Program funded with $25 million, which was completed in 2007 with the purchase of close to 2,000 acres of green space along tributaries and the river. The city also had to pay a fine of $2.5 million.
Stormwater Pollution Control: Cumming Clears Land Without Proper Permits
In 2008, the city of Cumming cleared a 22-acre tract of land less than 400 yards uphill from Lake Lanier, but failed to install many of the required best management practices to control the eroded soil which, flowed into the lake via Sawnee Creek. The city also destroyed more than 800 feet of an onsite stream, callously ignoring the same environmental laws that it is responsible for enforcing in its role as an "issuing authority." Cumming was delegated to handle such permitting by the EPD. These activities were conducted without proper state and federal permit. CRK's attempt to work collaboratively with the city was rejected, so we filed a Clean Water Act action against the city, and successfully negotiated a settlement and consent decree was filed.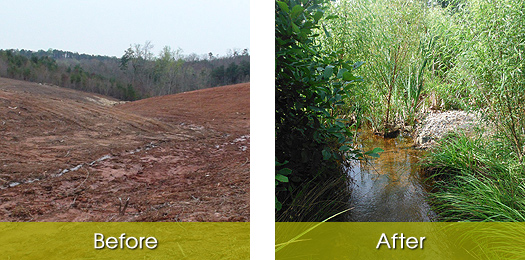 The terms of the settlement include: (1) immediate stabilization of the site; (2) restoration of a 50-foot stream buffer on each side of a 260 linear foot section of the damaged tributary to Sawnee Creek; (3) removal of sediment from the tributary to Sawnee Creek by bucket brigade; (4) use of pervious paving materials for at least 60 percent of parking lot square footage to allow rainwater to infiltrate into the ground; and (5) permission for CRK to regularly inspect the site.
In addition, CRK secured important supplemental environmental projects.
The city will pay: (1) up to $100,000 to restore a degraded stream in the Cumming City Park along with educational kiosks about the importance of stream buffers; (2) $40,000 to the Sawnee Mountain Foundation to support environmental education at the Sawnee Nature Preserve for 1,500 elementary students with an emphasis on underserved populations; (3) $10,000 to the Turner Environmental Law Clinic of Emory University School of Law to represent environmental groups on water quality protection matters in Georgia; and (4) more than $80,000 in CRK's attorney's fees and other litigation expenses.
Stream Buffer Protection: Fulton County Airport Plans Defeated
In 2011, the Fulton County Airport, also known as Charlie Brown Field, applied to the EPD for a variance to clear-cut 17 acres of vegetated stream buffer, as part of a larger plan to clear 150 acres surrounding the airport runways. The 25-foot, state-protected buffer is critical to filtering stormwater runoff, cooling waterways with shade, and providing food and habitat for wildlife. CRK appealed the variance issued by EPD because the county failed to include, and EPD failed to require, plans for mitigation that would have helped offset the loss of the critical buffer functions.
After filing a petition to appeal the variance, and initial settlement discussions, EPD decided to withdraw the variance it had issued in the late summer. The county airport has pledged to revise its clearing plans to minimize impacts in the buffers and include appropriate mitigation to offset any buffer impacts, while meeting Federal Aviation Administration regulations. CRK has been assured that we will be involved in any future attempt by the airport to seek a buffer variance.
Instream Flow Protection: Georgia Power's Plant Wansley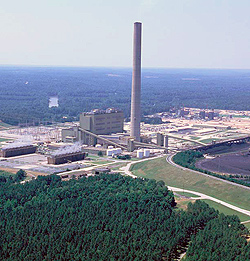 In 2002, an administrative law judge ruled in CRK's favor on our 2000 challenge to a water withdrawal permit issued to Georgia Power Company (GPC) for its coal-fired plant in Heard County on the Chattahoochee River. The judge found that GPC did not need to withdraw 116 million gallons per day of water from the river, a doubling of their original withdrawal permit. GPC and the EPD quickly filed briefs asking the judge to reconsider his ruling. In a surprising move, with little explanation, the judge reversed his earlier decision and upheld the permit.
CRK appealed the judge's ruling to Fulton County Superior Court, but the court affirmed the administrative law judge's decision. Although we were disappointed with these final rulings, we achieved several results. Our action established that aggrieved citizens are water users protected by state law and have the legal right o appeal water withdrawal permits. GPC was required to augment its original permit application, which had not met state requirements. Finally, EPD made significant improvements to its permit review and evaluation process.