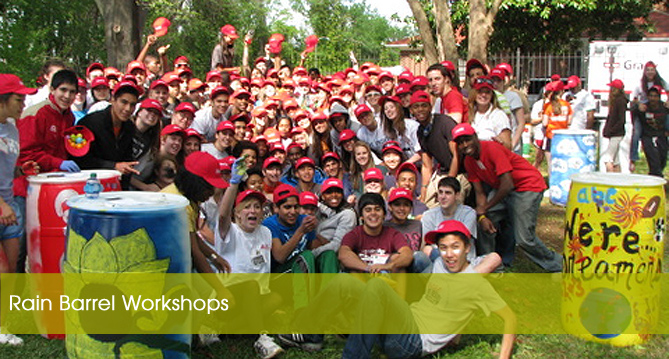 Since 2009, Chattahoochee Riverkeeper (CRK) has worked with The Coca-Cola Company to harvest rainwater with rain barrels. The Coca-Cola Company provides used 60-gallon syrup containers for use by homeowners. CRK workshops teach homeowners about water conservation, water-wise gardening and rain barrel installation.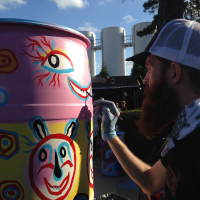 Rain Barrel Workshop Details
Learn how to construct your rain barrel
Receive a barrel and rain barrel conversion kit
Learn about water conservation and practical residential stormwater solutions
Receive a one-year membership to CRK
Schedule a Workshop with CRK
To request a CRK rain barrel workshop at your organization or school, download the workshop request form and send it to efyfe@chattahoochee.org. At least 15 participants are required, and the cost is $35* per participant. *No charge for school groups. The fee covers your barrel & kit, installation instructions, presentation and 1-year CRK membership.
Or HOST YOUR OWN WORKSHOP – If you are interested in organizing your own workshop and just need the barrels, let us know! We can help provide them at a discounted rate.
Buy a Barrel and Kit
You can also purchase and pick up barrels and kits directly from one of our offices ($35).
For more information, contact Erik at efyfe@chattahoochee.org or 404-352-9828 ext 11
Download a rain barrel brochure here

This program is supported by…

Want other Options for Harvesting Rainwater?
Here are some local companies that provide prefabricated rain barrels and custom rainwater capture solutions:
The Rainbarrel Depot – therainbarreldepot.com – An assortment of rain barrel designs and accessories
The Rainwater Pillow – rainwaterpillow.com – A unique rain harvesting system designed to be stored in any horizontal wasted space such as a crawl space
Steve Williams – (TheRainsaver@icloud.com, 404-234-1358) – Atlanta area rainwater harvesting consultant, available to design and install custom systems for homes and businesses