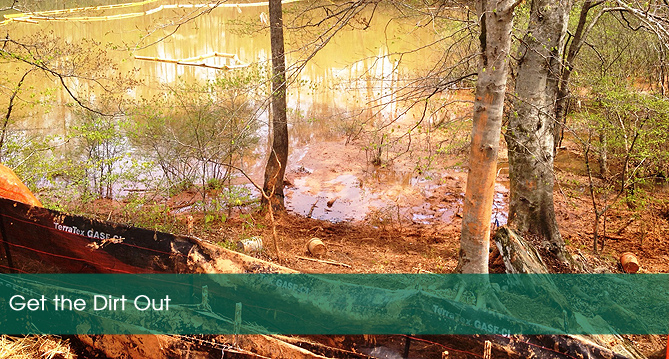 Stormwater runoff from construction sites is a major threat to the health of our rivers, lakes and streams. As a concerned citizen, you can participate in the Get the Dirt Out (GTDO) program and help reduce polluted stormwater runoff from construction sites by:
documenting problems
contacting the appropriate officials, and
following up to ensure action is taken
Learn how to be a citizen watchdog and combat this problem by attending a Get the Dirt Out workshop, a two-hour presentation where you will learn how to spot erosion and sediment control violations and how to report them.
Contact Jason Ulseth at julseth@chattahoochee.org or 404-352-9828, ext. 16, to learn about upcoming course dates.
Get the Dirt Out Program History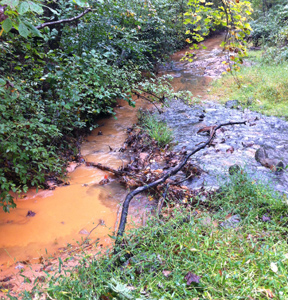 The GTDO program was created by CRK in 2005 with a grant from the U.S. Environmental Protection Agency to study the effectiveness of Georgia's erosion control program — the centerpiece of which is a set of regulations called the General Stormwater Permit for Construction Activity that implements federal and state stormwater control requirements.
During 2005-2006, CRK worked with other watershed protection and riverkeeper groups around the state to investigate Georgia's implementation of its general permit program. We developed educational materials and tools to document problems and evaluate the effectiveness of best management practices intended to prevent the flow of muddy water from construction sites into our waterways. We identified sites for investigation through file analysis, observation, and citizen complaints, deliberately focusing on sites with suspected stormwater problems.
Although the EPA grant is now complete, CRK is continuing the Get the Dirt Out program in the Chattahoochee River watershed. We are responding to Hotline calls, conducting site investigations, working with developers and government officials, and filing legal actions where necessary to protect the river and its tributaries. We also actively participated in the negotiations for the renewal of the general permit program in 2008 and 2013, helping to clarify and strengthen its provisions.