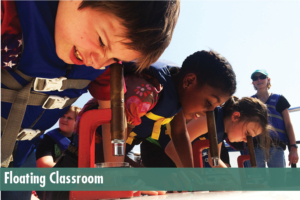 **Click here to watch a video showing the important impact the Floating Classrooms have on students and our community.**
We are pleased to welcome the new West Point Lake Floating Classroom (WPLFC).  After the success Lake Lanier's Floating Classroom, Chota Princess- with more than 40,000 students brought aboard- CRK has high hopes for the future of this newest addition to the fleet. Click here to learn more about the WPLFC or contact Laura Breyfogle to schedule your trip and for any inquiries on our scholarship program.
The Lake Lanier Aquatic Learning Center (LLALC), operated in partnership by CRK and Elachee Nature Science Center, is one of two floating classrooms in Georgia. Through this highly successful program, thousands of students each year, from the elementary grades through high school, learn about water quality and lake ecology through hands-on activities aboard a 40-foot catamaran. The custom-built boat, named Chota Princess II, includes a glass bottom viewing well and holds up to 49 passengers.
The LLALC is open to school or business groups, and programs can be specially designed to meet the participants' needs. Two-hour and three-hour programs are available. Take a ride on the classroom with this fun video we shot in 2012!
To schedule a program, please contact Elachee at (770) 535-1976 or elachee@elachee.org. For scholarship inquiries, please email Becca Klein at bklein@chattahoochee.org or call (404) 352-9828, ext. 19.
Program History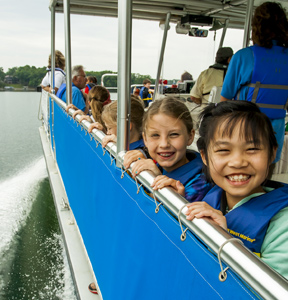 In 2000, thanks to funding from the Robert W. Woodruff Foundation and others, CRK purchased and outfitted the original Chota Princess, a pontoon boat named after the Cherokee word for the Chattahoochee River. The boat and its accompanying education program formed the Lake Lanier Aquatic Learning Center (LLALC), providing the opportunity for students to begin to make the connection between the river that supplies their drinking water and their daily lives and to learn on the water with hands-on activities. To date, we have taken over 30,000 students aboard our floating classroom for an unforgettable learning experience.
In 2006, the U.S. Coast Guard issued new regulations on stability after several fatal pontoon boat accidents in New England, which ultimately restricted the number of passengers allowed on our boat. Although the Chota Princess has always operated safely, only 19 passengers could be accommodated, which significantly limited our education program.
CRK took steps to secure funding for a new boat and expand the reach of this popular education program, and many partners made it possible for the Chota Princess II to make its maiden voyage in May 2007. In 2008, we expanded the program to include scholarships for inner-city and disadvantaged youth, and since then, we have been able to include nearly 5,000 of these students in our program. Students have joined us from after-school, camp and inner-city programs, including Camp Best Friends, Boys and Girls Clubs, Chris Kids, Latin American Association, Center for the Visually Impaired, Sandy Springs Mission, and Odyssey program.
Hands-on Activities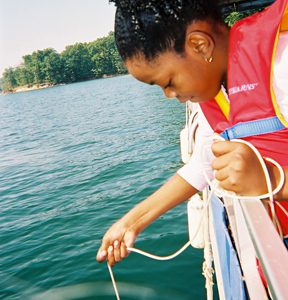 Aboard the Chota II, students conduct a variety of hands-on activities, such as dissolved oxygen (DO), pH, and turbidity tests, to better understand Lake Lanier ecology.
In addition, the students use nets to sample and identify freshwater plankton, the microscopic animals that form the base of the reservoir's many food webs.
We cap off the on-board instruction by lowering a deep-water probe into the lake to measure DO, pH, and temperature and compare those results to the previous results we found at the surface.
On shore, students look at the Chattahoochee River watershed and learn about some of the challenges it faces. They build a simulated water treatment plant, conduct hands-on storm water demonstrations to compare a variety of permeable and impermeable surfaces, analyze watershed maps and play a rousing game of "Lakecology" to test their knowledge of Lake Lanier and its watershed.
In addition, special visits to the city of Gainesville's Lakeside Water Treatment Plant or Gainesville State College's GIS lab can be arranged for students interested in more advanced watershed study.
Curriculum and Accreditation
The LLALC's curriculum is designed by Elachee Nature Science Center to be grade-level appropriate and complement classroom studies. All Elachee programs are correlated to Georgia's Performance Standards and Criterion-Referenced Competency Tests (CRCT) and Gwinnett County's Academic Knowledge and Skills (AKS) requirements.
Elachee Nature Science Center is also Georgia's first and metro-Atlanta's only nature center accredited by SACS (Southern Association of Colleges and Schools).

This program is supported by…
May P. & Francis L. Abreu Charitable Trust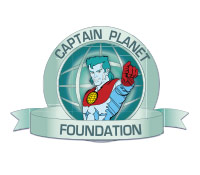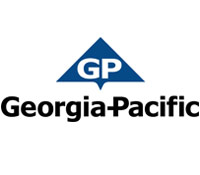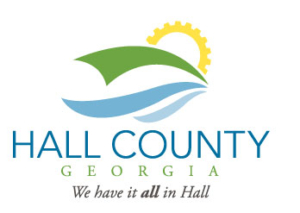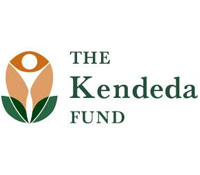 Little Family Foundation