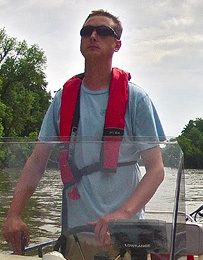 Jason Ulseth, Riverkeeper
Jason Ulseth is a Georgia native who grew up fishing and boating on the Chattahoochee River. During his childhood, he developed a love and passion for the river and our natural environment. In further pursuit of this passion, he attended the University of Georgia and earned a Bachelor of Science in Environmental Health in 2003. He then went on to work for nearly 5 years for the Georgia Environmental Protection Division and Georgia Soil and Water Conservation Commission.
In 2007, he joined the team at Chattahoochee Riverkeeper (CRK) as the organization's Technical Programs Director. Effective January 2015, Jason assumed the role of Riverkeeper and serves as the organization's lead river protection advocate and spokesperson. He also serves as CRK's patrol boat captain and is licensed by the United States Coast Guard as a Merchant Marine Officer to captain passenger vessels of up to 50 tons.
Jason is an expert in stormwater management and is a Certified Professional in Erosion and Sediment Control and a Georgia certified Design Professional and Trainer. He is certified by the state as an Adopt-A-Stream Trainer and is serving his second term on DNR's Adopt-A-Stream Advisory Board.
Jason and his wife, Dawn, currently reside in Cumming with their two children.

Juliet Cohen, Executive Director
Juliet Cohen was born and raised in San Juan, Puerto Rico. There she grew up surrounded by and immersed in pristine tropical waters and rainforests, and developed a love and respect for the natural world. Juliet earned a Bachelor of Environmental Science and Political Science from the University of Miami, Florida, in 1995, with an emphasis in marine biology.
After earning her undergraduate degree, Juliet worked in Washington, D.C. for an environmental education organization, Earth Force. Later she moved to Charleston, South Carolina, to work for the South Carolina Coastal Conservation League as Program Manager for the South Carolina More Than A Port project and volunteered as Conservation Chair for the local Sierra Club chapter.
In 2001, Juliet began studying law at American University's Washington College of Law where she served on the American University Law Review. She graduated in 2004 with honors Magna Cum Laude and a member of Order of the Coif.
From 2005 to 2007, Juliet worked as a Staff Attorney for the Eleventh Circuit United States Court of Appeals. Juliet has served as Executive Director for Chattahoochee Riverkeeper since January 2015.
Juliet and her husband, Jeffrey, reside in Brookhaven along with their three children.

Atlanta Office
Headwaters Office (Gainesville)
Middle Chattahoochee Office (LaGrange)
Reach individual staff by using email addresses provided, or contact our offices in Atlanta at (404) 352-9828, Gainesville (Headwaters office) at (678) 696-8866, and LaGrange (Middle Chattahoochee office) at (706) 882-3701.