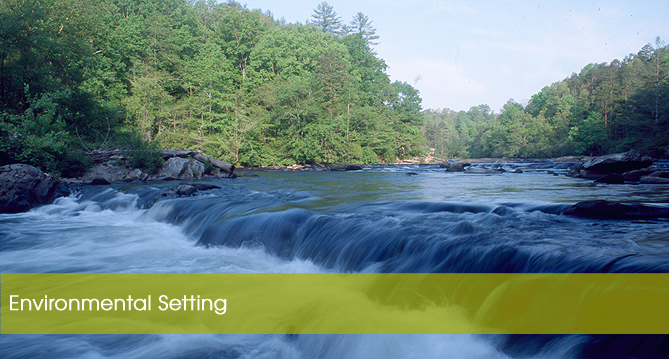 The Chattahoochee River — whose name is derived from Creek Indian words meaning painted rock — drains an area of 8,770 square miles, and is the most heavily used water resource in Georgia. The river arises as a cold-water mountain stream in the Blue Ridge Province at altitudes above 3,000 feet and flows 430 miles to its confluence with the Flint River at Lake Seminole and the Florida border.
The Chattahoochee River Basin is part of the larger Apalachicola-Chattahoochee-Flint (ACF) Basin which lies partly in southwestern Georgia, southeastern Alabama and northwestern Florida and covers 19,800 square miles in the Blue Ridge, Piedmont, and Coastal Plain Provinces.
The Chattahoochee and Flint rivers' drainages meet to form the Apalachicola River, which flows into the Gulf of Mexico at Apalachicola Bay. Near West Point Lake, the Chattahoochee River defines the state boundaries between Alabama and Georgia. Basin hydrology and water quality are influenced by 16 mainstem dams, 13 of which are on the Chattahoochee. In contrast to the mainstem Chattahoochee River, many tributaries remain free flowing.
Although most of the ACF Basin has been altered by human activities, the basin's environment is noteworthy for its remaining biological diversity and the role it plays in sustaining biological productivity in Apalachicola Bay. The basin is home to the largest number of fish species among Gulf Coast drainages east of the Mississippi River.
Source: U.S. Geological Survey, Water-Resources Investigations, Report 95-4278.