Report: Filling the Water Gap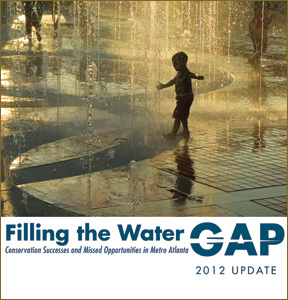 Local governments and businesses continue to lead metro Atlanta's water conservation efforts, as outlined in our 2012 report, Filling the Water Gap: Conservation Successes and Missed Opportunities in Metro Atlanta.
Meanwhile, regional and state leaders fall short in providing the financial, institutional, and political support needed to maximize water conservation efforts.
According to our report, the following conservation measures could save nearly 400 million gallons of water per day, enough to serve 2.6 million people in metro Atlanta:
Reduce leaks;
Replace old toilets with water efficient models;
Sell energy efficient clothes washers and dishwashers;
Price water to encourage homes and businesses to use less;
Harvest rainwater for outdoor purposes; and
Reuse treated wastewater for outdoor purposes.
Learn More
For more information on how you can help save water and money, visit our No Time to Waste brochure.
For more information about metro Atlanta's conservation efforts, contact Water Policy Director Chris Manganiello at cmanganiello@chattahoochee.org or call (404) 352-9828 ext. 15.