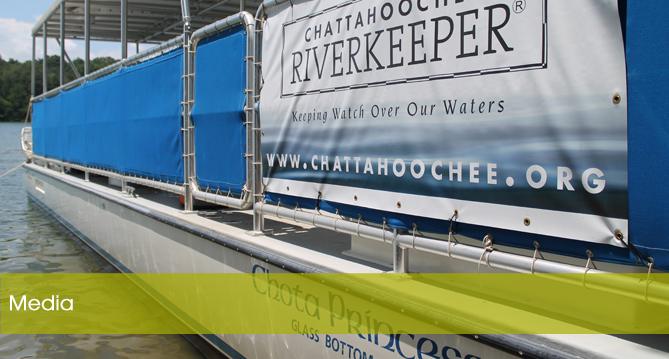 Welcome to our media and resources hub! Here you will find press releases, fact sheets, annual publications, and more.  If you are a member of the media, and need assistance, please contact Melanie Baird at mbaird@chattahoochee.org or 404-352-9828, ext. 29.
Check here for the latest CRK press releases and media advisories.
Copies of our program publications, including "Filling the Water Gap" "Tapped Out: The Drying Up of Atlanta," our RiverCHAT newsletter and RiverFLASH sign-up can all be found here.
Need a general fact sheet about our river or programs? Check here for an array of PDFs available for download.
CRK publishes an annual report that is open to the public. Please check here for current and past reports.
Be Social!
Find us on social media. We are on Facebook, Twitter, Instagram and Vimeo.
Be Mobile!
There's an app for that. Our Chattahoochee Riverkeeper app allows you to stay updated on current events, ways to report a problem, and more.  Click here to learn more.