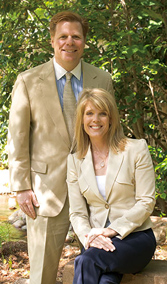 We co-founded the Chattahoochee Riverkeeper organization in 1994 because of our great love for the river that sustained us in our childhood and now sustains our own children, as well as nearly 4 million people.
Modeling the Chattahoochee program after New York's successful Hudson Riverkeeper, we sought to create a focused environmental advocacy initiative led by professional staff and committed volunteers. With funding from the Turner Foundation and other local supporters, CRK officially opened its doors for business on March 1, 1994 in donated office space with a single canoe for river transportation. A year later, we were powered by a donated jet boat and full-time legal staff.
Since 1994, our dedicated and diverse Board of Directors and Advisory Board has guided CRK in its transformation from a scrappy group of paddlers, scientists, anglers and environmental activists to a respected, but still scrappy, organization that has won many victories for the people and wildlife in the Chattahoochee River Basin.
Although our legal actions have often captured the headlines, CRK's water quality monitoring, community outreach and floating classroom programs serve as the foundation of our work, and we are particularly proud of the awards that CRK has received for these initiatives.
CRK's accomplishments will give you an idea of the breadth and complexity of the watershed issues that daily challenge our competent staff.
Despite our successes, CRK needs your support more than ever to ensure that we all have enough clean water now and in the future.  Join us in our effort to protect Georgia's greatest river!
— Laura Turner Seydel and Rutherford Seydel