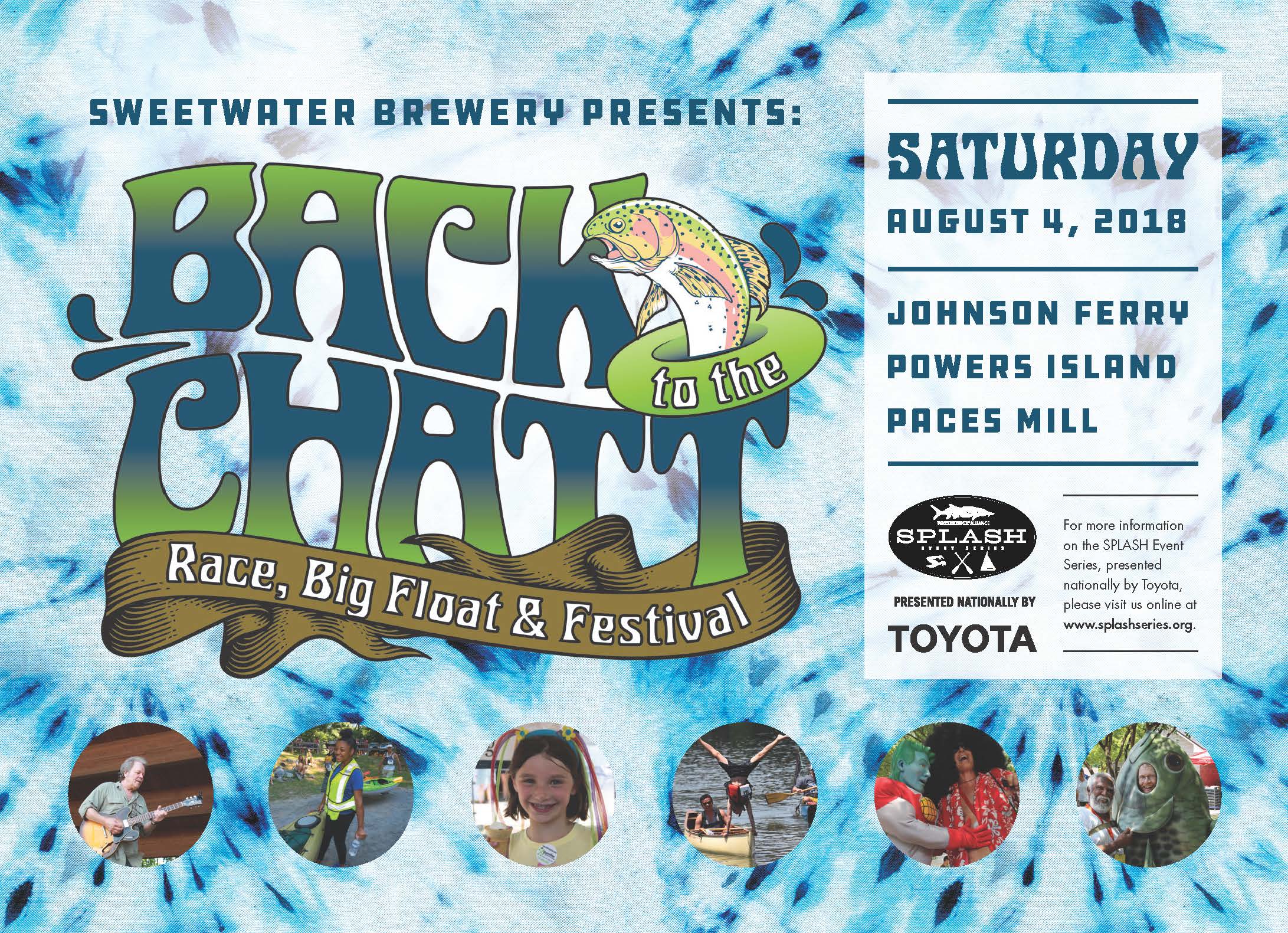 WEATHER UPDATE: 
8/3/18 – Dear Back to the Chatt Registrants, Exhibitors and Sponsors,
We have cancelled the water portion of the Back to the Chatt Race, Big Float & Festival due to high flows and bacteria levels in the river. While the weather forecast for Saturday is looking better, the heavy rainfall during the week will be making its way downstream making the conditions unsafe for the event on Saturday.
The good news is the festival will go on (rain or shine)! We hope you will join us at Paces Mill between 12:00pm and 4:20pm for some great music, food, beer (only for registered participants 21 and over) and community! Your registration fee includes a one year membership to CRK, a free-trade, organic t-shirt, lunch and goodie bag—a $70+ value, which you may collect at the festival.
Over the course of the past few days, the Chattahoochee River watershed received a substantial amount of rain causing an already full Lake Lanier to release large quantities of water from Buford Dam into the Chattahoochee River National Recreation Area (CRNRA). The big dam releases coupled with rainfall in the metro area have increased flows in the Race and Big Float courses, which have created unsafe conditions for river access. Additionally, the rain has carried with it bacteria pollution in unsafe levels. We have made the decision to cancel the water activities in concert with CRNRA protocols for safe river access.
CRK obtained a permit to host the Back to the Chatt on August 4, which was issued by the CRNRA. While we would like to reschedule the river activities we do not have a permit for another day. We will explore options to reschedule in coordination with the CRNRA and keep you informed.
Please know that outside of these unusually high rainy periods, the Chattahoochee River is clean and safe for boating, swimming and fishing. To read more about water quality in the river, please go to our website here. You may also visit the CRK tent at the festival to speak directly to CRK staff who monitor water quality on a regular basis.
Parking at the Paces Mill Unit is limited, so we encourage you to park and ride from The Lovett School. Lovett is located at Northgate Dr. NW, Atlanta, GA 30327. This is .7 miles from the Paces Mill Unit – head south on 41/Cobb Parkway, cross the river, and it's the first traffic light on your right. Do not use the Paces Ferry address posted on the school website.
Nantahala Outdoor Center will provide full refunds to guests who made rentals affiliated with the Back to the Chatt held on August 4th, 2018. NOC will automatically initiate all refunds during the day on Friday August 3rd, please note that refunds may take up to several business days to process. We appreciate your patience, support of the Riverkeeper, and look forward to seeing you on the river as soon as levels normalize. For questions relating to refunds or re-bookings, please email NOC at reservations@noc.com.
Thank you very much for supporting Chattahoochee Riverkeeper! Your registration dollars will support our important water protection programs all year long. We hope to see you on Saturday as we bring it Back to the Chatt!
For more information, email Tammy Bates or call CRK to speak with Juliet Cohen, Executive Director, at (404) 924-4502.
8/2/18 – The festival is rain or shine. We are currently evaluating river conditions and will make a determination on the race and Big Float water activities in the next day.
7/31/18 – We are closely watching the weather for this Saturday's event.  Please continue to check back here for the latest information regarding the event.
---
#WATERISLIFE  It connects us.  Join us August 4 as we celebrate our community and the liquid lifeline that flows through our cities. Paddlers and floaters will take to the river at two locations, ending at Paces Mill for the free, family-friendly festival.  See you on the river, as we bring it BACK TO THE CHATT!
---
New course for our racers, paddlers and floaters, and a new location for the festival!
---
NEW COURSE to RACE, PADDLE or FLOAT! – We are excited to share new options to participate.
Johnson Ferry North to Paces Mill – 6.5 Miles –
For Kayaks, Canoes and SUP's. Launch time between 10:00am and 12:00pm
Johnson Ferry North to Powers Island – 3.5 MILE SPRINT RACE!

Paddlers wanting to compete for a time (and bragging rights), the 3.5-mile sprint race will start at Johnson Ferry and end at Powers Island. Then you are welcome to leisurely paddle down to the Festival at Paces Mill. Launch starting at 9:00am

Powers Island to Paces Mill – 3 Miles – For inflatable boats only to leisurely float this fun section. Launch time between 10:00am and 12:00am
Awards will be presented in all race categories and special recognition in all other categories for Best Costume, Best Boat Decoration andTeam Challenge (get a paddle team together!)  All paddling participants will be greeted at the end of the course by the SweetWater Beer Barge (for patrons 21 and over), where you can also enjoy sodas and water before going ashore.
REGISTRATION
Early Bird Registration – the entire month of June – $10 Discount
Floaters (inflatables) – Powers Island to Paces Mill only – $25
Paddlers (all courses) $40 Solo Boats / $80 for tandem boats ($40 per person)
July 1 through August 1* (*registration closes)
Floaters (inflatables) – Powers Island to Paces Mill only – $35
Paddlers (all courses) $50 Solo Boats / $90 for tandem boats ($45 per person)
All registered paddling participants will receive two tasty beverages from SweetWater Brewing Company (for patrons 21 and over), gift bag, Organic/Fair Trade T-shirt, boxed lunch, shuttle service and a one-year membership to CRK. Onsite registration will only be available if we do not reach capacity prior to the event.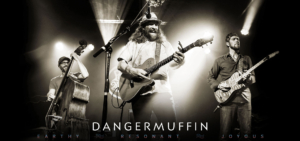 The FESTIVAL at Paces Mill is FREE and family-friendly. Participants will enjoy LIVE MUSIC by DangerMuffin and Fireside Collective, PLUS an array of exhibits that include river partners, artisans and children's activities. 12:00pm to 4:20pm.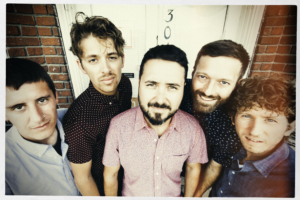 $30 Festival Special – Register in advance to attend the festival and receive two SweetWater beers, Organic/Fair Trade T-shirt and a one-year membership to CRK. Beer can only be provided with this advance registration to our 21 and older participants. ID required.
Organized and presented by Chattahoochee Riverkeeper (CRK) in partnership with the Chattahoochee River National Recreation Area, SweetWater Brewing Company and Nantahala Outdoor Center, this annual event is organized to celebrate the Chattahoochee River and foster a sense of community around the river that serves nearly 4 million Georgians and 70% of metro Atlantans.
Become a Sponsor! With the continued threats our river faces, CRK needs your support more than ever. Click here for more information on sponsoring.
Sponsor deadline to appear on invitation postcard is June 1, 2018.
Sponsor deadline to appear on t-shirt is July 20, 2018.
Proceeds go to support CRK's mission to protect and preserve the Chattahoochee River system for the people and wildlife that depend upon it.
Interested in exhibiting at the festival? Email tbates@chattahoochee.org for all inquiries and information.
Volunteer Registration is now closed. If you would like to be wait-listed, please email tbates@chattahoochee.org
Please be aware that the water based activities of the festival (tubing, kayaking, canoeing) are subject to the Chattahoochee River National Recreation Area's guidelines and protocols for safe water access.  In the event certain water based activities are not allowed on August 4, due to excessive flows or other regulated conditions, registrants will still be able to participate in the Back to the Chatt festival at Paces Mill.  No refunds will be issued under these conditions.  For questions about this policy, please contact Tammy Bates.
Cancellation Policy: You may cancel your reservation for a refund, minus a $10 processing fee, seven (7) days prior to the event.  After seven (7) days, we can no longer offer a refund for cancellations.