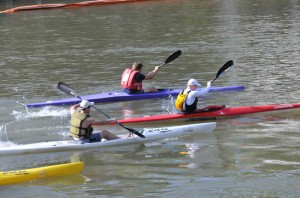 Paddlers of all ages and skill levels will take to the water on Saturday, June 15, for the 11th Annual Back to the Chattahoochee River Race & Festival. Registration is now open.
The race is organized and presented in partnership with the National Park Service and the city of Roswell. It begins at 9 a.m. at Garrard Landing Park on Holcomb Bridge Road and includes competitive and recreational categories for Kayaks, Canoes and Stand Up Paddle Boards. This 8-mile course includes exciting Class I-II rapids and concludes at Riverside Park, the site of the free family-friendly festival, music and awards presentation. The festival, held at Roswell's Riverside Park from 10 a.m. to 3 p.m., is free and family friendly.
Visit the event page here, and check out highlights from last year's event!