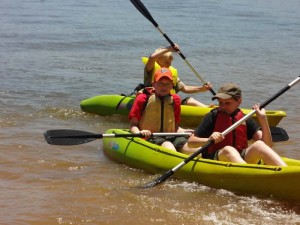 The West Point Lake Region will warm up this spring with lots of fun and informative events. We've already hostedt the LaGrange College Water Conservation Forum on April 16 as well as the Wild & Scenic Film Festival on (April 23. We hope you'll come visit our table at the Bassmaster Elite Series/West Point Lake Battle on Saturday, May 4.
The following weekend, our Watershed Outings program kicks off with a Shoal Lily Viewing Walk on Saturday (see below). Future events in the area include our 2nd Annual Clean Water Festival at Yellow Jacket Creek Beach (pictured, June 1) and the Wolfe Farm Tour (June 3).
Check out our Events calendar for more details.