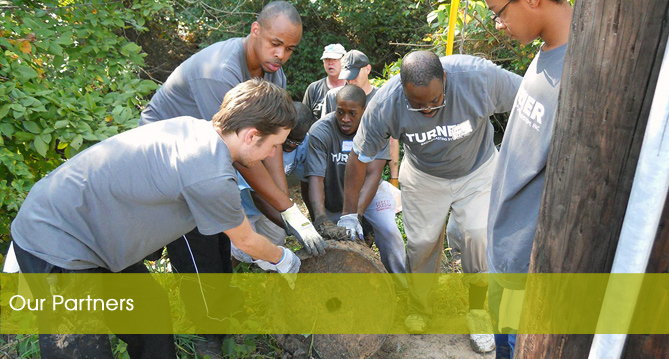 Chattahoochee Riverkeeper accomplishes its goals by working collaboratively with a wide range of partners on advocacy and education programs. Since 1994, we have developed relationships with civic groups, nature centers, government agencies and businesses, as well as watershed organizations to protect the Chattahoochee River and other waterways in Georgia. Additionally, our 7,000-plus members include business people, parents, government leaders, activists, students, anglers, paddlers, and others.
Our Partners (abbreviated list)
Elachee Nature Science Center: The center helps Chattahoochee Riverkeeeper operate the Lake Lanier Aquatic Learning Center, a floating classroom program offered to more than 3,000 students and teachers annually.
Georgia Water Coalition: This is a group of individuals and organizations working to ensure that the waters in the state of Georgia continue to belong to the people of the state.
National Park Service and U.S. Geological Survey: These entities partner with Chattahoochee Riverkeeper on the BacteriALERT Program, which monitors water quality in the Chattahoochee River National Recreation Area.
Waterkeeper Alliance: This international group is a network of more than 200 waterkeeper organizations around the world.
If your company would like to learn how to become a CRK partner, please write us at info@chattahoochee.org.
Our Members
Chattahoochee Riverkeeper boasts more than 7,000 members who attend our events, help us meet our mission, volunteer to take water samples and more. To learn more about membership, click here.